Acne Treatment London
Treatments to control Acne reduce blemishes, pustules, cysts, blackheads and whiteheads with cutting-edge medical laser technology.
Acne Treatment
Acne Treatment Prices

0% Finance Option

Refer a Friend
Acne Treatment Prices
PicoSure Pro: Face
Treating Post-Inflammatory Pigmentation
PicoSure Pro: Face & Neck
Treating Post-Inflammatory Pigmentation
0% Finance Option
Have a minimum spend of £250?
Have you lived in the UK for more than 3 years?
Can you put a 20% deposit to secure finance?
Can you pay up to 24-month instalments?
You are not a student.
Are at least 18 years old
Have a UK bank account capable of accepting Direct Debits
Provide an email address so your documentation can be emailed to you.
You're in paid employment or have a regular income
Have a good credit history with no late payments,
No County Court Judgment (CCJs), Individual Voluntary Arrangement (IVAs) or bankruptcies.
Book Free Consultation
£50 Off for you and your Friend
Our referral campaign offer is valid at all clinics for any treatment or package. All you need to do is book your free consultation to redeem. This applies to your friend too. Share this page with your friends and then enter the promo code, "FRIEND50" when booking your Free consultation. The offer is for packages £500 minimum spend. T & C's apply.
Book Your Free Consultation to Redeem
Acne Treatment London
There are many over-the-counter products available promising that will clear or control Acne. Yet, they could work on the first application, but a few days later, Acne returned with another breakout.
At Pulse Light Clinic, we can help you:
Control Acne or Cystic Acne breakouts

Avoid skin damage or acne scars

Remove blackheads and whiteheads

Treat post-inflammatory pigmentation and redness
Our Acne treatment with LaseMD will treat bacterial infection and works by reducing oil production and swelling. The LaseMD functions by making micro-channels through the skin and mini reservoirs under the skin's surface. Following each treatment, we apply the RS Serum Ampoule that works as nanoparticles composing the mini reservoirs for deep skin absorption. 
With LaseMD treatment, we can help control Cystic Acne by combining the serum ampoules and a course of treatment sessions depending on the skin condition. With this treatment, we can remove black and whiteheads and support the skin's health.
The treatment regimen our doctor advises depends on the type, severity of Acne and age, and your skin goal. In several cases, while controlling cystic Acne, many will notice post-inflammatory pigmentation on the treated area, which can be removed with PicoSure Pro laser sessions, offering an even skin tone. Others evidence redness following the treatment, which can be reduced with IPL sessions. IPL targets the vascular scarring and removes the redness from the scar tissue, and in the meantime, kills bacteria and stimulates collagen and elastin, which supports skin healing.
Another treatment that will maintain acne-free skin is the Dermalux LED Phototherapy, a skin-specific treatment utilising varieties of clinically verified Blue, Red and Near Infrared wavelengths. Stimulates collagen and elastin production to improve blood circulation and blitz blemish-causing bacteria.
We always ensure the safest treatment method for our clients; we recommend booking a free consultation and speaking to one of our practitioners to discuss your skin concerns and goals.
Meet our Experts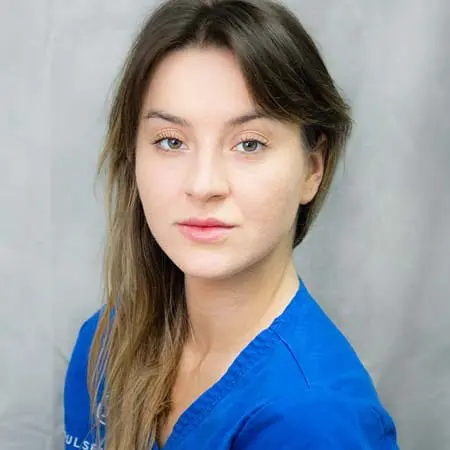 Cherrie
Senior Practitioner
Over 5 years experience
Dr Matin Ahmadi
Aesthetic Doctor
Over 12 years experience
Mariana
Senior Practitioner
Over 5 years experience
Why Choose Pulse Light Clinic
The only clinic in Europe to have the Biggest Range of Lasers.
Benefits of Acne Treatment
No anaesthetic is required.
Long-lasting result.
No-Surgery leaves no scar.
No bruising, No downtime.
Delivered in London, UK
More than 20 years of experience in laser and IPL Technology