Postnatal Treatments London
Postpartum Treatments London
The characteristics of Melasma skin condition, also known as chloasma, are usually tan or brown patches, most commonly around cheeks, forehead, eyes and sometimes mouth. Almost up to fifty per cent of women develop Melasma symptoms that can appear during pregnancy, often called the "mask of pregnancy". Nonetheless, a few women will notice patches on their neck, arms or even on their upper lip, where a dark line appears known as a "sun moustache". In some rare cases, melasma fades after pregnancy, but this is not typical. At Pulse Light Clinic, we have many ways to treat postnatal melasma for all skin types, with Picosure Pro and LaseMD laser, but our doctor can also assess the skin needs and prescribe a medical cream.
Because melasma becomes more visible with UV light (sun exposure), it's recommended to use SPF 50 or higher at all times.
2. Hormonal Acne after pregnancy
While pregnant, women will notice many changes in their skin, even conditions they never experienced before. During pregnancy, hormones play a role in these changes. Two of them are the high levels of progesterone and estrogen fluctuations. These two are increasing sebum production and clogged pores.
These two are increasing sebum production and clogged 
It's not a secret that pregnancy can change your skin—including causing Acne. But why does this happen? The short answer: hormones.
Following delivery, the hormone will return slowly to normal levels once the menstruating begins again, and after a few months, Acne symptoms will be gone. Although many women, since the delivery, noticed that Acne hadn't gone, this could be due to underlying hormone-related problems or high levels of stress that caused the breakout. At Pulse Light Clinic, we provide solutions for acne treatments with Hydrafacial, LED Phototherapy and LaseMD laser. The Hydrafacial will aid cleanse the skin and clogged pores, and LED Phototherapy will sanitize the skin from bacteria. The LaseMD is a more drastic treatment that can help reduce blemishes, pimples, and black and whiteheads.
3. Fat Pockets around Belly or Apron Belly
Also known as "Mother's Apron", omentum usually occurs during pregnancy when the skin on the belly stretches and the fat cells expand. This results in flap tissue like an apron lower of the abdomen and causes bulges. Most women are experiencing this condition and are using many methods to remove the excess fat because it feels uncomfortable, and they also admit that they have lost their confidence. At Pulse Light Clinic, we have the most effective method for fat reduction with Coolsculpting or Fat Freezing. The coolSculpting method freezes the fat cells away, disposing naturally of our body's digestive process. It's a non-invasive treatment and doesn't require anaesthesia.
When skin stretches quickly and doesn't have the time to adjust, it causes stretch marks. The sudden stretch tears the skin tissue resulting in a scar. During pregnancy, the body grows, and it's a fact that ninety per cent of women by the third trimester will get stretch marks. The common areas stretch marks are getting noticed are the abdomen, breast, thighs and buttocks. However, not everyone develops stretch marks or not the same volume. In 2017 a research proposed that pregnant women are more prone to stretch marks if they are younger and gain weight quickly, but also because the hormonal fluctuations could weaken the collagen and elastin fibres.
We can remove red stretch marks with CO2 laser & Cool Laser as they are ablative lasers and can heal scars, but also other methods are Morpheus8 and Dermapen micro-needling. The treatments help rebuild the skin matrix by producing new collagen, stimulating the existing one, and developing elastin. They are available for all skin types and ages.
*All the above treatments are suitable only for women who are not breastfeeding.*
Book a free consultation and speak to our skin experts for further information. 
Meet our Experts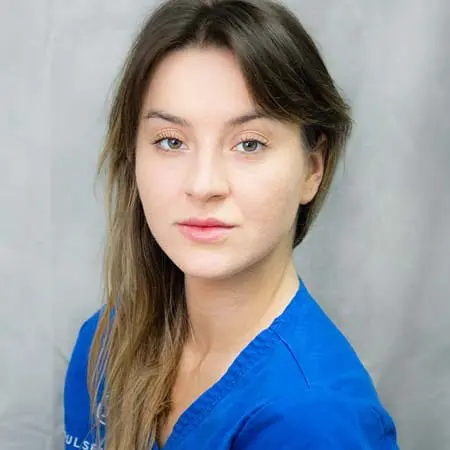 Cherrie
Senior Practitioner
Over 6 years experience
Dr Matin Ahmadi
Aesthetic Doctor
Over 12 years experience
Mariana
Senior Practitioner
Over 5 years experience
Why Choose Pulse Light Clinic
The only clinic in Europe to have the Biggest Range of Lasers.
Benefits of Postnatal treatments
No anaesthetic is required.
No-Surgery
No downtime.
Delivered in London, UK
More than 20 years of experience in laser and IPL Technology