Get your Skin Rejuvenated with our package
Are you seeking to revitalize and rejuvenate your skin to achieve a radiant and youthful appearance? Look no further than Pulse Light Clinic's Skin Rejuvenation and Tightening Package. Our package is designed to help you attain smooth, youthful skin and a revitalized complexion.
Our Package Includes:
Morpheus8

(3 Sessions): Morpheus 8 uses Radio Frequency combined with microneedling for better conductivity and depth into the dermis. Reducing fine lines, wrinkles, tightening loose skin and fading acne scars.
Thermage FLX Skin Tightening (1 Session): Thermage is the most advanced in Radio Frequency treatments for lifting and tightening the skin.
At Pulse Light Clinic, we are renowned for our exceptional skin rejuvenation and tightness  achievements, offering dual Morpheus 8 and Thermage Skin Tightening.
Preparation for Treatment:
Most clients are suitable for our Morpheus8 and Thermage treatments. Individuals with skin rejuvenation and anti-ageing concerns, free from active infections, inflammations, sun exposure, or active acne. Following the treatment, patients must adhere to all post-treatment instructions for a smooth recovery and avoid excessive sun exposure. To minimize side effects, the best seasons for treatment are autumn, winter, and spring.
Before Treatment Requirement:
Avoid Sun Exposure: Minimize sun exposure for at least two weeks leading up to your Morpheus8 treatment. Sunburned or tanned skin can be more sensitive during the procedure, and avoiding direct sunlight helps to reduce potential complications.
Stopping Light sensitive medication is important when undergoing these treatments.  
Hydration: Keep your skin well-hydrated by drinking plenty of water in the days leading up to the treatment. Well-hydrated skin tends to respond better to cosmetic procedures.
Numbing:
Morpeheus8 will require numbing cream, when it's applied well you will feel very little during the treatment.
Post-Treatment Experience:
Morpheus8 will pierce the skin and therefore swelling and redness will be noticeable for 1-3 days after treatment. Slight bruising is also a possibility.
Thermage has no down time, but you may feel tightness for a day after.
Treatment Intervals:
Morpheous8 is a 6 week interval between sessions and Thermage itself can only be performed every 6 months
Combining Treatments:
Thermage or Morpheus 8 could be done on the same day as. However, intervals between sessions do allow the practitioner more flexibility with the treatment.
Results and Duration:
Morpheous8 will begin to show results after 2 months but will keep improving for 3- 6 months after a session and Thermage will begin to work after 2 weeks and results will continue to improve for 3-6 months
Sustaining Results:
The results may vary depends on the client and their skin, genetics, diet and sun exposure. However, collagen depletes yearly after we reach 30. A course such as this could last for up to 2 years.
Achieve your desired perfect skin rejuvenation and tightening goals with our advanced and effective treatments at Pulse Light Clinic. Contact us today to book your consultation!
Meet our Experts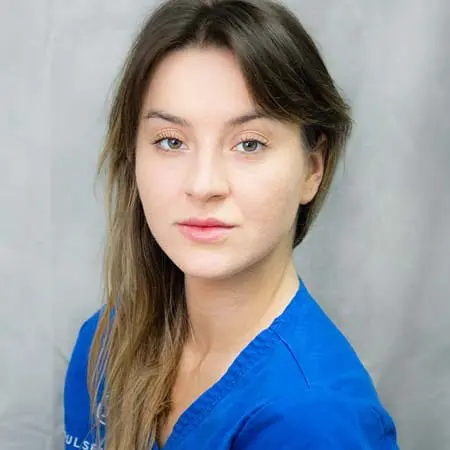 Cherrie
Senior Practitioner
Over 5 years experience
Dr Matin Ahmadi
Aesthetic Doctor
Over 12 years experience
Mariana
Senior Practitioner
Over 5 years experience
Why Choose Pulse Light Clinic
The only clinic in Europe to have the Biggest Range of Lasers.
Benefits of Skin Rejuvenation and Tightening Treatments
No anaesthetic is required.
Reduction of fine lines, wrinkles, and uneven skin texture
No-Surgery leaves no scar.
Improvements in hyperpigmentation and acne scarring
Smoother Skin.
Delivered in London, UK.
More than 20 years of experience in laser and IPL Technology.
FAQs
Is the Skin Rejuvenation and Tightening Package suitable for everyone?
Ideal candidates for these treatments are individuals with skin rejuvenation and anti-ageing concerns, free from active infections, inflammations, sun exposure, or active acne.
How many sessions will I need to see noticeable results?
You may start to recognise the benefits of Morpheus8 in a few days of your first session and some skin tightening within three weeks. However, complete results will be visible about three months after your final session.
Are the results permanent, and how can I maintain them?
Morpheus8 is an effective treatment and can be applied to all skin types. In addition, the treatment can occur to permanent results by following an annual maintenance session(s) that will allow your skin to maintain collagen production.