Carbon dioxide laser resurfacing, also known as CO2 laser treatment, is a skin treatment that works by precisely removing thin layers of skin. It is used to treat everything from wrinkles to acne scars, and it's one of the skin rejuvenation treatments provided in our London clinics.
It proves lasting results and is a very safe procedure, with little downtime and minimal damage to surrounding tissue. If you visit our CO2 laser fractional page, you can learn about prices and finance options and book a free consultation. In the following guide, we'll highlight how effective this treatment can be by looking at some CO2 fractional laser before and after images.
These snapshots show real people and real results, just like the ones you can get when you book an appointment at Pulse Light Clinic.
CO2 fractional laser before and after
People seek CO2 laser treatment for a variety of reasons, including:
Scars (including acne scars)

Age spots

Fine lines and wrinkles

Uneven skin texture and tone

Large pores
The procedure can help to minimise the appearance of all these skin complaints, as you can see in these CO2 laser before and after images. 
CO2 laser before and after acne scars
These images of CO2 lasers before and after acne scars show you just how effective CO2 lasers are at treating acne scars, a complaint that brings many men and women through our clinic doors.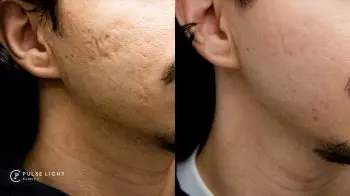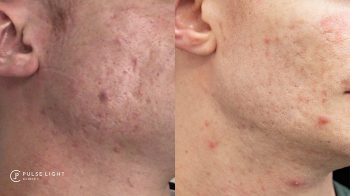 Acne is a very common condition and appears in roughly 95% of people aged between 11 and 30. Women are most commonly affected between the ages of 14 and 17 while men are more likely to get it between 16 and 19. It can appear in adults, as well.  Oftentimes, even when acne disappears, it can still leave its mark in the form of scars. These scars are the result of inflammation that occurs underneath the skin. It damages the tissue and leads to scarring. Acne scars present in one of two ways:
Indentation: Commonly seen in severe acne, indentation scars occur when the skin doesn't fully regenerate, leaving a noticeable indentation in the skin. This is one of the main issues that lead people to CO2 treatments, as it can greatly reduce the appearance of these scars and create a levelling/resurfacing effect.
Discolouration

: When the acne fades, the affected area may not fully heal and it can appear darker than the rest of the skin. The discolouration is not as severe and can be treated by many non-invasive treatments, including a variety of skin pigmentation treatments.
If you have acne scars that are getting you down, book a free consultation and discuss your treatment options with one of our doctors. It doesn't matter how severe those scars are or how long they have been there; CO2 laser treatments can usually do something to help.
CO2 laser before and after wrinkles
Skin loses its elasticity with age, and this is how wrinkles form. Excessive sun exposure can accelerate the process, leading to damaged and saggy skin, as well as age spots. Fortunately, there are a number of treatments targeted toward minimising the appearance of fine lines and even deep wrinkles.
The location and severity of these wrinkles will dictate the exact nature of your treatments, as well as the number of sessions you need, but CO2 is very effective at reducing wrinkles and works with all skin types.
To reduce the risk of wrinkles appearing in the future, avoid sun beds, use sunscreen whenever you're outside, drink plenty of water, and moisturise your skin on a regular basis.  Smoking and heavy drinking are also very bad for your skin and could lead to more wrinkles. So, stub out those cigarettes and keep the alcohol to a minimum.
CO2 laser scar removal before and after
If you have pronounced facial scars that are affecting your life or confidence, CO2 treatment can help to reduce them.
Just take a look at this CO2 laser scar removal before and after shots.
Facial scars can occur for a variety of reasons. Acne scars are some of the most common, as noted above, but they can also appear as a result of accidents, including childhood falls, sporting incidents and motor vehicle crashes. A few years ago, a survey was conducted to determine how facial scars are perceived in society. Over 4600 respondents were shown images of people that alternated between clear skin and superimposed acne scars. It found that those with scars were considered to be less attractive. Strangely, respondents also thought that people with scars were less likely to be healthy, confident, happy, and successful.  
The most notable thing is that a third of the respondents had scars of their own, hinting at an element of self-projection fuelled by a lack of self-confidence. Everyone is beautiful in their own way, but if your facial scars are affecting your mood and confidence, there are clear benefits to reducing them and that's where CO2 treatments can help.
CO2 laser fractional
If these CO2 laser before and after pictures have convinced you to try this treatment for yourself, Pulse Light Clinic can help. Book a free consultation at one of our London clinics and one of our experienced doctors will assess your health/skin condition and provide some recommendations. There is no obligation to book and you can ask any questions on your mind.
In addition to determining whether you are a good fit for CO2 laser treatment, the doctor will use this time to determine the type of treatment needed. Fractional laser treatments use a matrix of lasers that vary in intensity, with different strengths used for different conditions and skin types.
It's important to make sure you get the right treatment, understand the risks, and know exactly what to expect. That's what the consultation is for. Book today and see how CO2 laser fractional can help you.